Product Feature:
– The ultimate 87-key RGB mechanical keyboard
– RGB – 16.8 Million Colours Individually Customizable Keys
– Light – Weight with Detachable cable for improved mobility
– Concave Kevlartech Keycaps with life time fadeproof warranty
– Individually lit keys with 16.8 million colours to choose from , 14 EFX
– Total travel : 3.60 ~ 4.00 mm
– Tactile travel : 1.8mm
– Trigger force : Min 30gf , Max 65gf
– Top Panel : high quality polypropylene with brush metal finish.
– Cable length : 1.8m
– 5V from USB port
– Works on WinXp/Vista/Win7/Win8/Win10
– 1 Year Warranty
How to choose the right switch according to your requirements?
️▶️Blue switch
Strong mechanical sense and crisp sound when typing
The best choice for games
Trigger path: 2.4mm
Key strength: 60 grams
Critical life: 50 million times
Applicable people: gamers
▶️Red switch
Quiet typing
Accelerate and move straight up and down smoother
Trigger path: 2.0mm
Key strength: 60 grams
Critical life: 50 million times
Applicable people: professional players/offices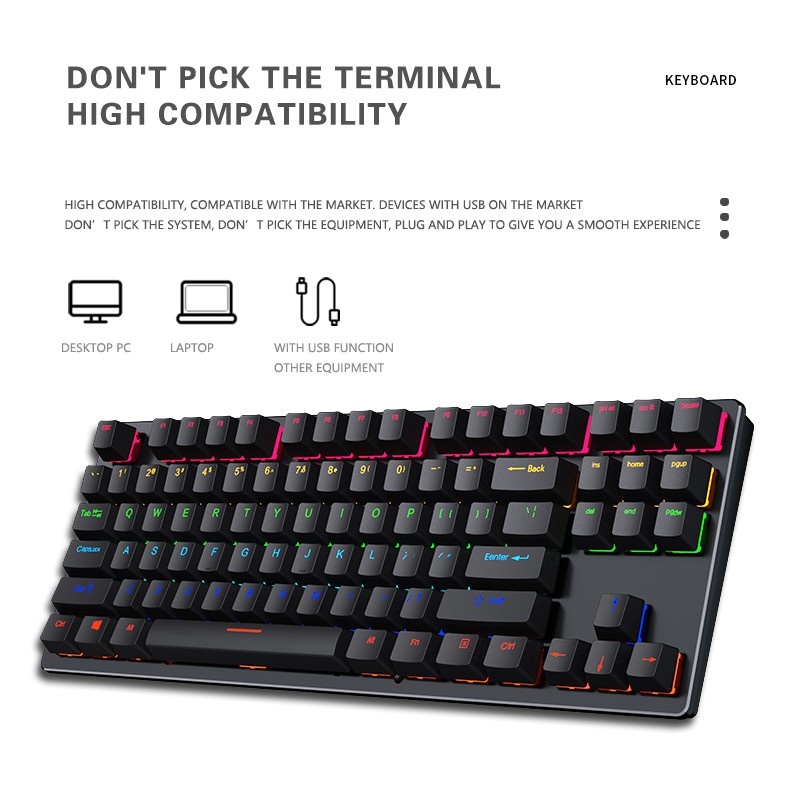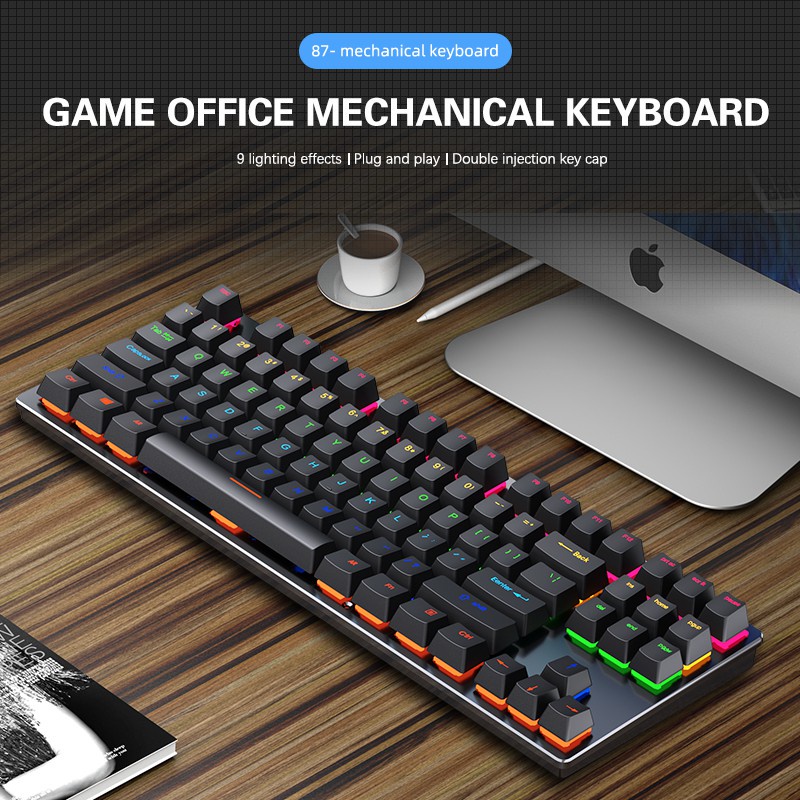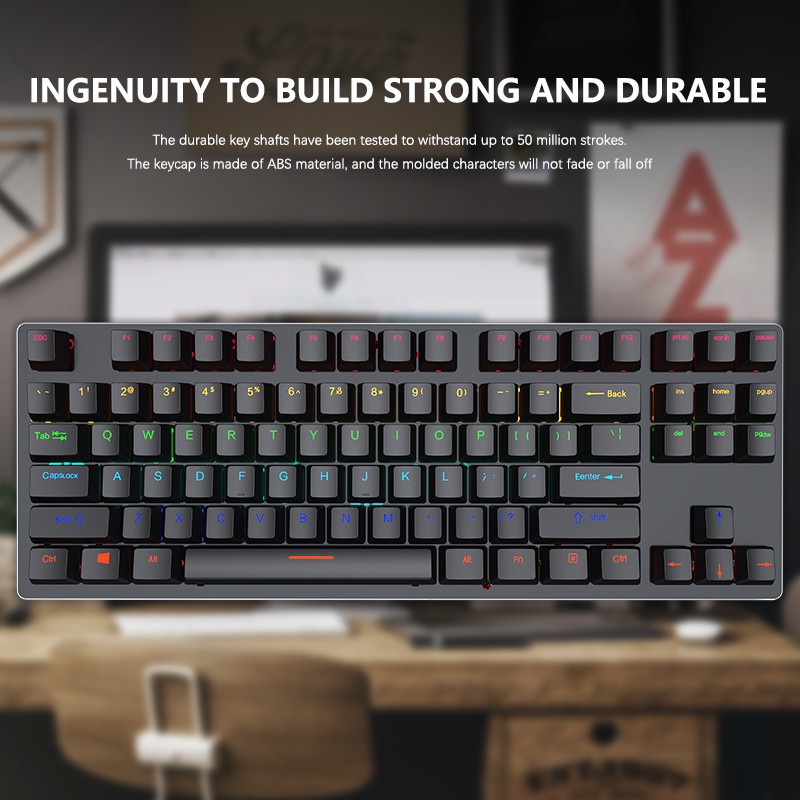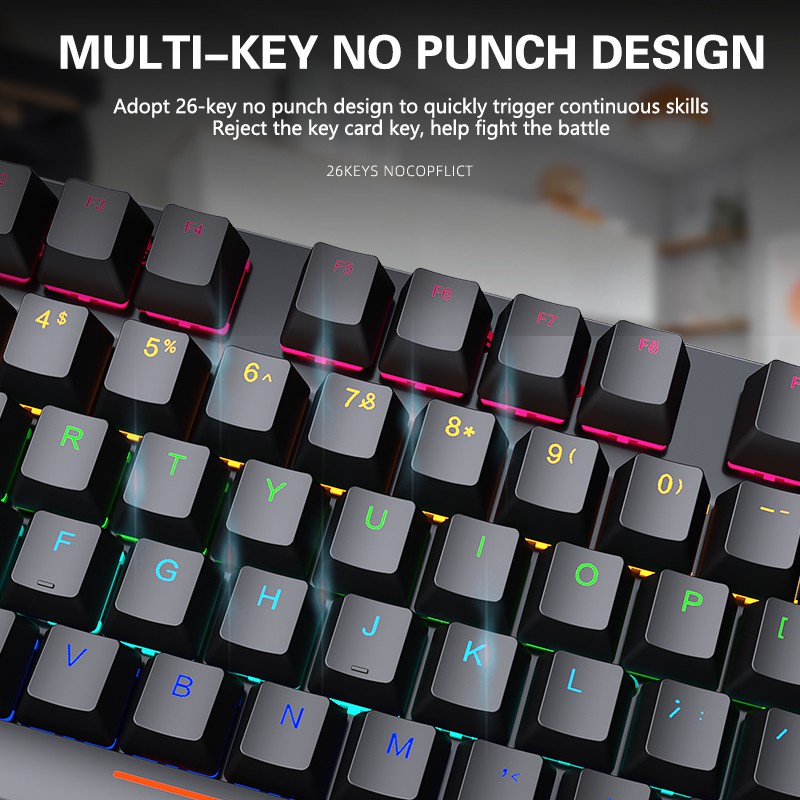 Leaven K550 Mechanical Keyboard 87-Key USB Wired Gaming Keyboard with RGB BackLights
Four Fashionable youth colors,gorgeous charming, full of vitality Standard 87 keys,Plug play, characters cool lighting in the middle board, different colors but same quality.
Suitable for games, Entertainment, office, Let you feel a kind of life pleasure when using,it is a mechanical keyboard that everyone loves.
Waterproof dustproof design, with several drainage holes in the bottom, can discharge liquid tea water as soon as possible.
U-shaped keycap, close-fitting fingers, 87-key key layout, U-shaped floating keycap, perfect close-fitting hand tips, hit the heart and feel a smooth office experience
Two-color plastic suspension keycap, using ABS resin thermoplastic material, delicate two-color, light-transmitting design, comfortable hand feeling, not easy to oil, non-stick fingerprint
Dynamic glare The colors are gorgeous, plug and play, dynamic dazzling backlight, characters and mid-plate glow night entertainment, the lights are more charming.